What's the difference between a regular gym and a gay gym in London? A valid question. While a lot of the basics are the same in terms of equipment, facilities, and prices, there is something distinctly different about gay gyms and gay-friendly gyms that make gay men feel more welcome and comfortable while working out.
---
Gay gyms in London
Sweatbox Soho
At the moment there is only one actual, openly gay gym in London, and that title belongs to Sweatbox Soho.
Sweatbox Soho claims the title of 'London's Busiest Sauna', with a fully functional gym and weekly events that include everything from foam parties to free STI screenings.
Learn more about Sweatbox Soho and exclusive Gay Fitness UK offers here.
---
Gay-friendly gyms in London
While a trip to a steamy gay sauna/gay gym might be fun once in a while, if you're serious about your fitness you may be looking for something a little more convenient and slightly less sweaty. More of a gym with gay men rather than a gym for gay men.
A place where you'll see gay men working out side by side with straight men and even a couple of women! Here are some of the most well-known gay-friendly gyms in London.
Muscle Bull Gym (Bermondsey)
Muscle Bull Gym may not be an exclusively gay gym, but the owner and some of the staff are gay, making inclusivity very much a part of its atmosphere.
Muscle Bull Gym in Bermondsey is kind of a "bare bones" gym, a great space that isn't anything fancy but is always welcoming and motivating.
Learn more about Muscle Bull Gym and exclusive Gay Fitness UK offers here.
Pure Gym (Covent Garden & Soho)
PureGyms can be found all over the country so the clientele can be very different at each location.
The two PureGym locations that are said to be the gayest in London are Covent Garden & Soho (shocking).
---
London gyms with gay personal trainers
There are probably thousands of gyms that have gay PTs training clients, but here are the ones that our gay personal trainers work in.
Jubilee Hall Gym (Covent Garden)
Another Covent Garden-based gym that has become known as a gay-friendly gym that also just happens to be the home of SW Fitness London, a personal training company owned and operated by the beautiful beefcake gay personal trainer Steve White.
With huge floor-length windows, you're able to safely check out the boys in the swimming pool from the street.
GymBox
GymBox is so hip and trendy that it just oozes gay, with pole dancing, Gaga dance classes, and more neon than you could possibly handle, GymBox is the gay-friendly gym brand of our dreams. With an upmarket gay clientele, you're sure to find plenty of pretty boys to check out while you workout.
Also, one of our other fab gay personal trainers, MJ Palmer, just so happens to work in the Covent Garden branch. Which instantly earns it a few more gay points.
Gayest GymBox gyms
Covent Garden, Farringdon, Elephant & Castle
Sleven Crossfit
Sleven CrossFit is located in Vauxhall, South London. Like so many CrossFit spaces, it kind of revels in its badass attitude. As they say, London life is tough, and at Sleven, they take away the tough choices and combine work, friends, family and fitness into one neat little package.
It's a great space with a tonne of cool kit to help you get out of your training rut, with classes and coaching available from none other than our very own Darryl Lampen.
Hybrid Fitness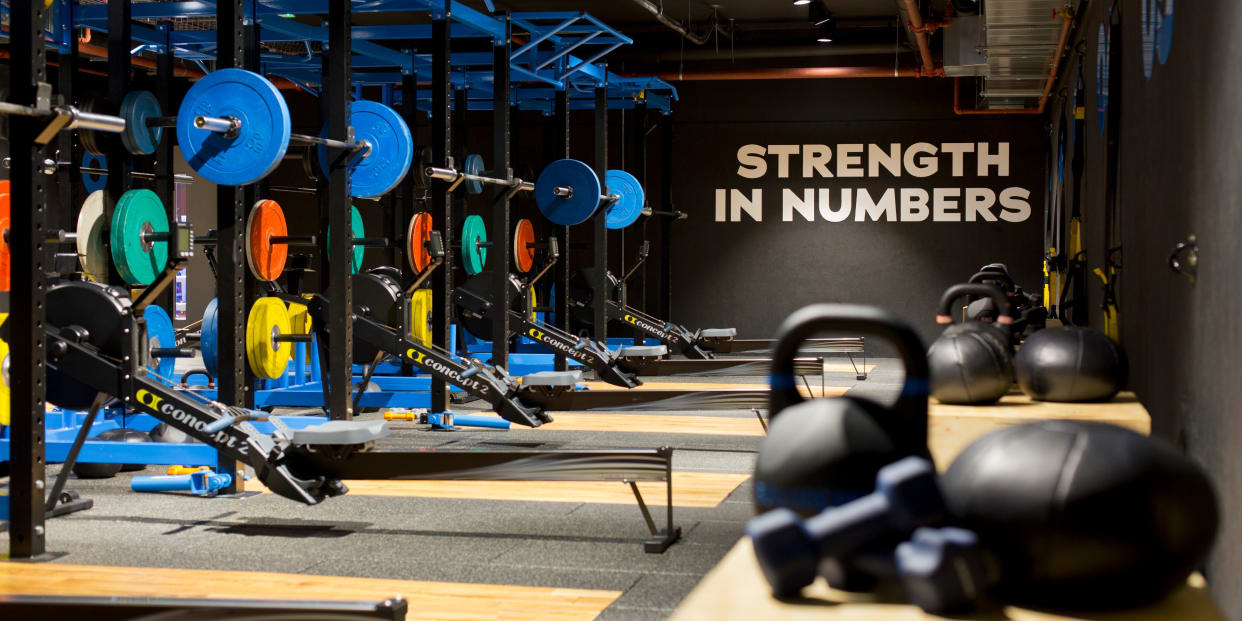 Located right by Tower Hill, Hybrid Fitness is total boutique fitness, consisting of a fully-equipped gym and two studios: a Strength & Conditioning studio which is used for performance training and intense workouts, and a Yoga Studio which offers both hot and cold Yoga classes.
Hybrid Fitness is also where Mark Hughes hosts his weekly Muscle Marys workouts, where gay fitness fanatics can train together in a safe, supportive environment.
Which brands have the most gay gyms in London?
None of the major gym brands are explicitly gay, but some of the gayest gyms in London are part of these chains.
Barry's Bootcamp
Fitness First
Fitness First gyms are all over the place, so you're sure to stumble across a gay crowd sooner or later. The Soho club has a mixed crowd of go-go boys, clubbers and gay-friendly straight boys alongside a noticeable number of Brazilian bartenders that let off some steam in the steam room from time to time.
Gayest Fitness First gyms
Soho, America Square, Liverpool St, Queen Victoria St, Old St.
Virgin Active
Posh and pricey, Virgin Active has a load of luxurious clubs in London, attracting mostly old, middle-class, white guys. However, there are a few central gyms with some overly-ambitious, arrogant, hotties. Plus most of them have sauna and steam room facilities, and you know what that means.
Gayest Virgin Active gyms
Barbican, Moorgate.
---
Want to try out a gay gym in London?
If you're interested in trying out any of the gay gyms in London we've mentioned here, then pop your details below and we'll see about getting you a guest pass and some more information.
---
Your gay gym suggestions
There are almost too many gay and gay-friendly gyms in London to count, so we're constantly adding to and updating our list. If you know of a gay gym in London that we've missed, or think that one of our listed gay gyms isn't especially gay these days, get in touch and let us know!