What's the difference between a regular gym and a gay gym in London? A valid question. While a lot of the basics are the same in terms of equipment, facilities, and prices, there is something distinctly different about gay gyms and gay-friendly gyms that make gay men feel more welcome and comfortable while working out.
If you're a gay who goes to the gym, then you may have considered (at least once) going to a gay gym. Or at the very least a gay-friendly gym. Though there aren't many explicitly gay gyms in London, there are a few key spaces that come highly recommended by gym gays… for various reasons.
Why look for gay gyms near me?
Gay gyms and gay-friendly in London are fairly easy to come by since, for the most part, the city is pretty open and accepting of gym-going gays. But finding a good gay gym can make you feel more comfortable when training, allow you to find a join a community of fellow gym gays, and can be a great place to make some new gay friends.
---
Gay gyms in London
Sweatbox Soho
At the moment there is only one actual, openly gay gym in London, and that title belongs to Sweatbox Soho. Sweatbox Soho claims the title of 'London's Busiest Sauna', with a fully functional gym and weekly events that include everything from foam parties to free STI screenings.
Located near Oxford Circus Tube, Sweatbox is about as central as you could get. The entrance is on Ramillies Place so you might need to wander around a bit before you find it.
ADDRESS: Ramillies House, 1-2 Ramillies st. Soho London W1F 7LN
Visit Sweatbox Soho to find out more.
---
Gay-friendly gyms in London
While a trip to a steamy gay sauna/gay gym might be fun once in a while, if you're serious about your fitness you may be looking for something a little more convenient and slightly less sweaty. More of a gym with gay men rather than a gym for gay men.
A place where you'll see gay men working out side by side with straight men and even a couple of women! Here are some of the most well-known gay-friendly gyms in London.
Muscle Bull Gym (Bermondsey)
Muscle Bull Gym is not be an exclusively gay gym. However, the owner and some of the staff are gay, making inclusivity very much a part of its atmosphere. Muscle Bull Gym in Bermondsey is a welcoming and well equipped gym that boasts being one of the few gyms in London to have a fully equipped outdoor gym.
Visit Muscle Bull Gym for more information.
GymBox (Elephant and Castle)
GymBox is so hip and trendy that it just oozes gay. It features pole dancing, Gaga dance classes, and more neon than you could possibly handle. GymBox is the gay-friendly gym brand of our dreams. With an upmarket gay clientele, you're sure to find plenty of pretty boys to check out while you workout.
In fact, when asking our followers for their recommendations for the best gay gym in London, the answer was overwhelmingly GymBox Elephant and Castle.
Contact GymBox E&C for more information. And check out the Covent Garden branch too, as it's also fairly gay.
Pure Gym (Clapham Common & Oval)
PureGyms can be found all over the country so the clientele can be very different at each location. The two PureGym locations that are said to be the gayest in London are Clapham Common and Oval, but Soho and Covent Garden are pretty gay too.
Jubilee Hall Gym (Covent Garden)
Another Covent Garden-based gym that has become known as a gay-friendly gym that also just happens to be the home of SW Fitness London, a personal training company owned and operated by the beautiful beefcake gay personal trainer Steve White.
With huge floor-length windows, you're able to safely check out the boys in the swimming pool from the street.
Sleven Crossfit
Located in Vauxhall, South London,Sleven CrossFit, like so many CrossFit spaces, revels in its badass attitude. It's a great space with lots of cool kit to help you get out of your training rut. There's also classes and coaching available from none other than our very own Darryl Lampen.
Hybrid Fitness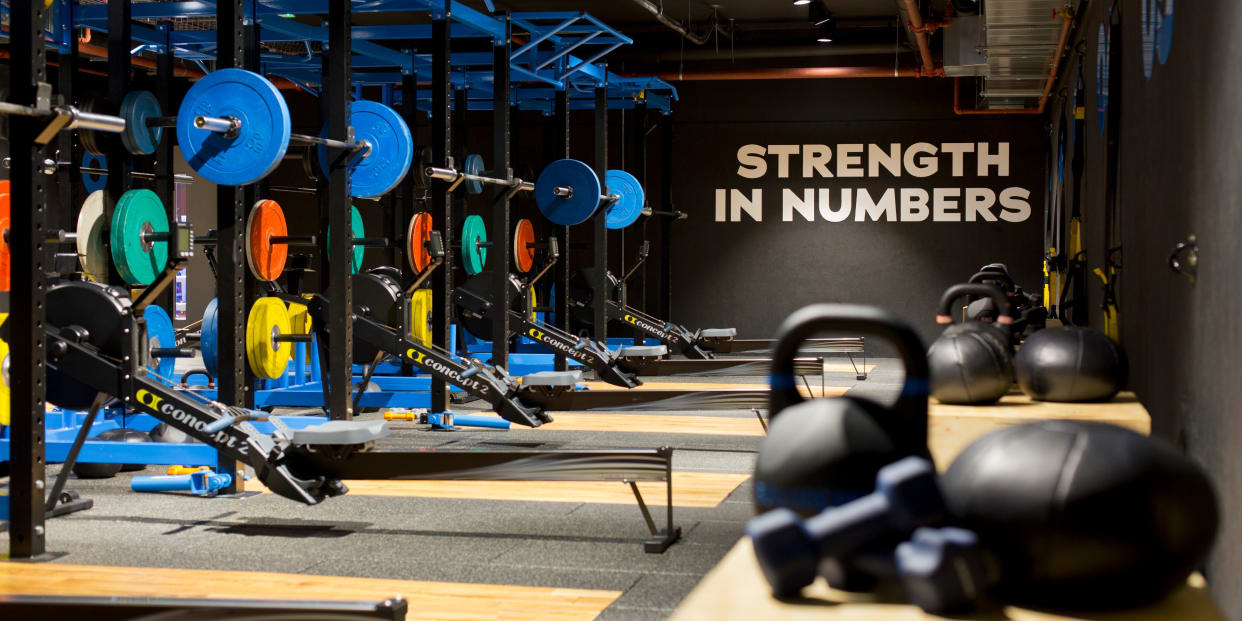 Located by Tower Hill or in Canary Wharf, Hybrid Fitness is total boutique fitness, consisting of a fully-equipped gym and two studios. There's a 'Strength & Conditioning' studio used for performance training and intense workouts, and a Yoga Studio which offers both hot and cold Yoga classes.
Hybrid Fitness is also where Mark Hughes hosts his weekly Muscle Marys workouts. Here gay fitness fanatics can train together in a safe, supportive environment.
Which brands have the most gay gyms in London?
None of the major gym brands are explicitly gay. However, some of the gayest gyms in London are part of these chains.
Barry's Bootcamp
Fitness First
Fitness First gyms are all over the place, so you're sure to stumble across a gay crowd sooner or later. The Soho club has a mixed crowd of go-go boys, clubbers and gay-friendly straight boys. There's also a number of Brazilian bartenders that let off some steam in the steam room from time to time.
Gayest Fitness First gyms
Soho, America Square, Liverpool St, Queen Victoria St, Old St.
Virgin Active
Posh and pricey, Virgin Active has a load of luxurious clubs in London, attracting mostly old, middle-class, white guys. However, there are a few central gyms with some overly-ambitious, arrogant, hotties. Plus most of them have sauna and steam room facilities, and you know what that means.
Gayest Virgin Active gyms
Barbican, Moorgate.
What makes the best gay gyms in London?
1. Gay members
Gay members make good gay gyms, so the clubs that tend to have a lot of gay members will create a more inclusive and supportive atmosphere. The best gay gyms in London tend to be in areas where the gays flock to, such as Clapham, Covent Garden, Soho, and Elephant & Castle. Even the most bare-bones gyms in these locations will be gayer than most.
2. Great music
Most of the time I have my headphones on, but a truly great gay gym will make you want to press pause from time to time. Good gay music can slightly dispell any excessive heterosexual energy and help to make a space feel more inclusive inviting and gay.
3. LGBTQIA+ events
The mark of an actively supportive gay-friendly gym will be how open they are in supporting its LGBTQIA+ members. A great way to do this is to host LGBTQIA+ events, the most obvious being during Pride month. Gym chains like GymBox and Barry's Bootcamp run regular Pride classes every June (pandemic notwithstanding) which are a great way to meet your fellow gay gym-goers.
4. Cruising options
Gay Fitness UK does not endorse, nor encourage, sexual activity taking place in any public space… but it's nice to at least be considered from time to time, right?
Whether you choose to partake in tandem showers or communal steams is up to you, but there are a number of gyms in London that will give you more options than others.
5. Good atmosphere / decor
The look and feel of a gym can vary wildly, from those warehouse-style bare bones CrossFit gyms to plush luxury clubs that have everything from climbing walls to indoor waterfalls. A good gay gym will have some sort of edge to it and at least a little effort put into style. This could be cool lighting, stylish graphics, edgy design choices of any kind, and the occasional seasonal disco ball.
Having said that, some of the best gay gyms in London are budget gyms or community centres, so while it's nice to have, it's not essential.
6. Gay-friendly dress code
Like many things in gym-life, gym outfits could either be incredibly gay or incredibly straight and still look the same. We're talking guys in tops with their side-boob out, or tiny thin straps barely covering their nipples. This could absolutely just be comfortable gym gear for your typical bodybuilding bro, but the gays love to see it.
7. Gay instructors and personal trainers
The ultimate seal of approval for a good gay gym will be if it has gay instructors and gay personal trainers. Some of our favourite gay PTs and gay group exercise classes are run in gym across London, and if it's good enough for them then it's good enough for me.
---
Your gay gym suggestions
There are almost too many gay and gay-friendly gyms in London to count, so we're constantly adding to and updating our list. If you know of a gay gym in London that we've missed, or think that one of our listed gay gyms isn't especially gay these days, get in touch and let us know!